---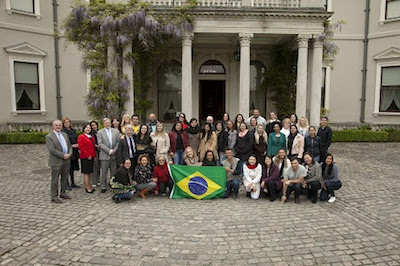 Mary Immaculate College, internationally recognised as a leading provider of education programmes, was chosen by the Brazilian authorities as the host partner for this inaugural overseas trip. During their week-long stay the Brazilian teachers participated in lectures delivered by MIC faculty, leaders in their various fields of education; visited a number of local primary and secondary schools with a sharing of information; attended a research conference hosted by MIC on immersion education; visited a number of cultural sites both in Limerick and north and south of the border and even had an opportunity to get to grips with a hurley and sliothar.
Speaking at the event Professor Eugene Wall, President of MIC, commended the Brazilian government agency, CAPES, for encouraging this kind of global outlook. Noting that MIC has recently expanded the scope of its internationalisation to include other countries in South America, he stated that the College's strongest partnerships in that continent are in Brazil. "We offered to host this group of excellent teachers not only because of our expertise in the area of teacher education, but also in light of the College's history of very positive integration of Brazilian students into the MIC community." he said.
MIC has developed a strong relationship with Brazil having welcomed ten 'Science without Borders' scholars in 2015/16 and 2016/17 and has taught English language to dozens more Brazilian students. Under the prestigious Government of Ireland Scholarship Scheme, the College has hosted four high-calibre Brazilian students, two in the 2015/16 academic year and two in the current academic year. More recently MIC has also offered three scholarships to Brazilian students in the past year.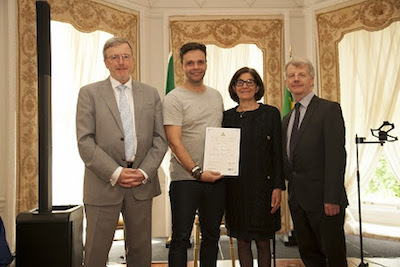 Pictured L-R are Prof Eugene Wall, President, MIC, Rodrigo Nobrega Martins, H.E. Mrs Eliana Zugaib, Ambassador of Brazil and Mr Gerry O'Sullivan, Head of International Education, Higher Education Authority

Speaking on the high standard of teaching education in Ireland Professor Wall said "It is an inescapable truism and well documented, that the quality of a country's education system cannot exceed the quality of its teachers. Irish teacher education currently attracts candidates of exceptionally high quality. The Report of the International Review Panel on the Structure of Initial Teacher Education (ITE) Provision in Ireland noted the high calibre of entrants to ITE in Ireland and concluded that the academic standard of applicants is amongst the highest, if not the highest, in the world".

Thanking Mary Immaculate College for their generous hosting of trip Mr Gerry O'Sullivan, Head of International Education, Higher Education Authority said: "I wish to extend our deepest appreciation for the extremely warm welcome and professional support that you offered to our Brazilian visitors for the past week culminating in a most memorable event in Farmleigh today. From the moment, the possibility was mooted, MIC was onside and the manner in which the programme was prepared and implemented is but another example of the excellence that is a hallmark of the college and its staff. We are in a very good place with our colleagues in Brazil and the manner in which MIC has worked to establish its presence with so many partners in that country augurs well for the future."

On Tuesday 22 May, Mary Immaculate College (MIC) in association with the HEA, hosted a special event at Farmleigh House, in honour of a delegation of thirty esteemed Brazilian teachers invited by the Brazilian authorities to visit Ireland. The group, who spent the past week in Ireland as guests of Mary Immaculate College Limerick and the Higher Education Authority, were chosen by the Coordenação de Aperfeicoamento de Pessoal de Nível Superior (CAPES) for their teaching excellence and as a result were rewarded with a week-long trip to Ireland to view the high standard of teacher education in practice here.